Event Registration
Songs For Nobodies - Australian Tour
Description: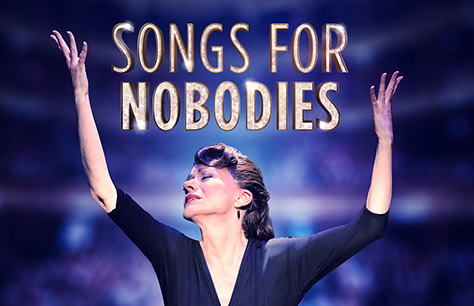 Following her acclaimed sold-out season in London's West End, Bernadette Robinson returns to Australia for a limited engagement in the hit play Songs For Nobodies.
First performed 10 years ago, Songs For Nobodies will tour to Sydney Opera House on the 29th of January.
This spellbinding one woman play, is a tour de force of imagined encounters between five mid 20th-century divas, Judy Garland, Patsy Cline, Billie Holiday, Edith Piaf & Maria Callas, & five ordinary women.
Join us for the day travelling by coach.
Click on the Register button below for more information & to view our price categories.
Payment will not be processed until details have been submitted at a later stage.

Songs For Nobodies showcases Robinson's astonishing talent for recreating the great singers of the past.  On stage for 90 minutes accompanied by live musicians, her miraculous voice shifts from the smoky blues to a thrilling soprano.
With consummate ease, she breathes new life into the five legendary performers & the five ordinary women whose lives were changed by their brush with fame.
The show was originally written for Bernadette Robinson by Joanna Murray-Smith on a commission from Simon Phillips as Artistic Director of the Melbourne Theatre Company.
Please note tickets are non-refundable so once you buy a ticket the only way you can get a refund is if the promoter has to cancel the entire event.
All times are approximate & subject to change. Confirmation will be made closer to the event.
Package is subject to a minimum combined group booking of 10 people for transportation to be viable.
Transportation is from the Sutherland Shire. Other collection points available, although may incur an additional $10pp fee, depending on location. For all inquiries, including, wheelchairs & accessible bookings please email Debbie@organisedoccasions.com.au. I will inquire into the cost of carer access at the venue, upon inquiry.
Event Registration and Ticketing Powered by Event Espresso